Researchers come up with integrated fireproofing for smartphone batteries
4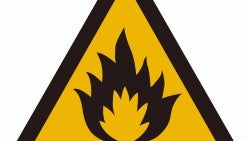 The Galaxy Note 7 fiasco turned the promise of explosion-proof batteries into a bona fide marketing call, with smartphone makers such as LG and China's Elephone boasting about the lengths they went to secure their new and upcoming devices against the dangers of combustion and overheating. While smartphone battery explosions are, and should remain rare accidents, the Note 7's crash and burn left customers and smartphone makers with a heightened awareness of the possibility for such events to occur.
While lithium-ion battery technology hasn't been privileged to considerable technological leaps, work on making them better and safer is still ongoing. Stanford University researchers have developed experimental li-ion batteries with built-in "fire extinguishers" – layers of flame-retardant triphenyl phosphate that separate the positive and negative electrodes and have the ability to extinguish flames in a split second. This compound has been experimented with in the past, but it posed the danger of short-circuiting batteries in case of overcharging or sustained use at low charge. At Stanford, researchers solved the problem by housing the triphenyl in a protective plastic fibre, designed to release the chemical only when a critical 150 degrees Celsius (302 F) temperature is reached in the battery.
Alas, there are some barriers to getting the technology out there – it will involve a new and more expensive battery manufacturing process. Further testing of the plastic shell under conditions of day-to-day use will have to be carried as well, as potential leaks of the compound inside the battery could ruin it on the spot.
ALSO READ