Report: Apple iPhone 8 Plus was the top selling iOS handset in the U.S. last quarter
24
Research firm CIRP just released its breakdown of U.S. Apple iPhone and iPad sales for the second quarter, based on a survey of 500 U.S. consumers who purchased one of those two devices during the three months that included April, May and June. In the states, the 2017 iPhone models accounted for 54% of iPhone sales during the period. The
iPhone 8 Plus
was the top seller with a 24% share, followed by the
iPhone X
with 17% and the
iPhone 8
with 13% of quarterly U.S. iPhone sales. Interestingly, last year's second quarter saw the most current models at the time (
iPhone 7
and
iPhone 7 Plus
) grab 80% of the stateside iPhone market. Josh Lowitz, CIRP Partner and Co-Founder, says that older models did better during this year's second quarter compared to the same period last year.
For the most recently completed three month quarter, the
iPhone 6s
,
iPhone 6s Plus
and
iPhone SE
together garnered 20% of U.S. iPhone sales; that is roughly the same market share achieved by those three models last year. While the price tags on those three units were lower this year, overall the Average Selling Price for the iPhone should rise from last year due to the higher prices for the 2017 models. Part of the price hike is due to the higher 256GB storage capacity available on the 2017 phones.
Turning to the Apple iPad, the iPad Pro had the largest overall share of iOS tablet sales in the U.S. last quarter with 40%. The
10.5-inch
and
12.9-inch
models were responsible for approximately 20% each. But the top selling model for the second consecutive year was the basic 9.7-inch iPad. This year, the
9.7-inch iPad (2018)
accounted for 31% of Q2 sales in the states compared to the 32% share won last year by the
9.7-inch iPad
. Rising from last year's 11% share in the second quarter to 18% this year was the iPad mini.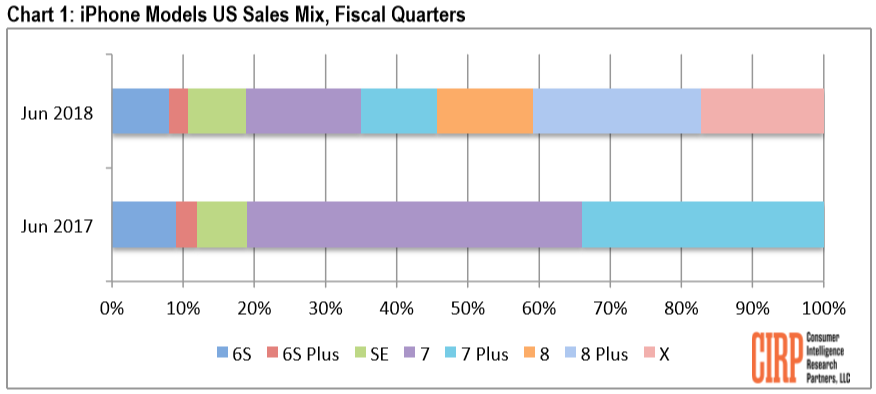 Apple iPhone 8 Plus had the largest share of the U.S. market among iOS handsets last quarte
Apple will release its next quarterly report (for the fiscal third quarter) on July 31st. We should learn how many iPhone and iPad units were sold during the calendar second quarter once Apple releases the report at around 5pm EDT next Tuesday.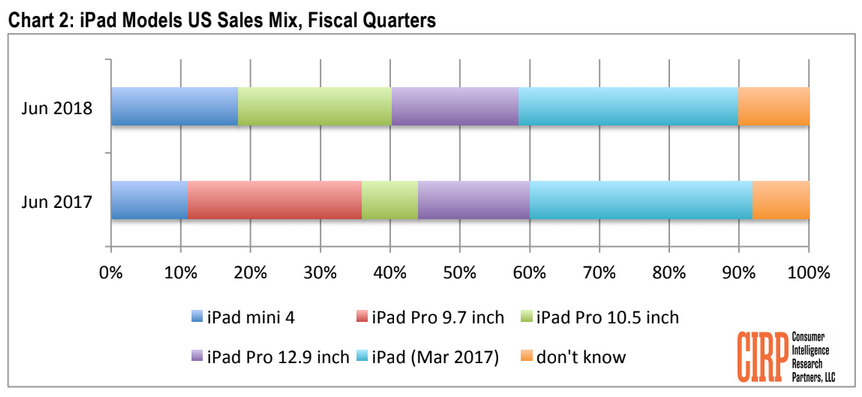 The top selling iOS tablet in the U.S. last quarter was the 9.7-inch Apple iPad (2018)
source: CIRP