Report: Apple will allow the Chinese government to inspect the iPhone and iPad for security reasons
13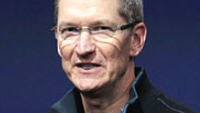 With the Chinese government fearful that iOS devices are capable of leaking state secrets and compromising the safety of Chinese consumers, Apple CEO Tim Cook has supposedly given permission for Chinese authorities to conduct product inspections on the iPhone and iPad. The inspections will allow the Chinese to look for backdoor access to government and private data, and will be done on a spot basis.
During a meeting last year between Apple's Cook and Lu Wei, director of China's State Internet Information Office, both men allegedly discussed the security of Apple devices including the Apple Watch. During this get together, Apple's CEO said that the company's products did not contain any backdoor that would allow data to be collected by governments or third parties. Lu wanted Apple to agree to security inspections so that the country could be assured that Cook was telling the truth.
The Apple executive might have felt that he had no choice but to give in. The company is opening five new Apple Stores in the country before the February 19th start of the Chinese New Year,
including one that had its Grand Opening today
. Apple has also doubled its market share of the smartphone market in China from 6% last year
to a recent 12% reading
.
source:
BeijingNews
(
translated
),
ITWorld
via
MacRumors