Report: Apple is looking at five different prototype versions of the Apple iPhone 7
39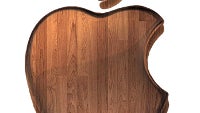 The next iteration of the Apple iPhone is expected to be called the Apple iPhone 7, coming after the odd-year "s" version of the
Apple iPhone 6
. If everything goes according to plan, Apple will be making some design changes and adding new features to its iconic smartphone. Just in case you've been in a coma for the last few years, the
Apple iPhone 3GS
was followed by a new design for the
Apple iPhone 4
. While the
Apple iPhone 4s
introduced Siri, the next year's
Apple iPhone 5
came with a larger 4-inch screen. The iPhone 6 brought a new look for the phone, and a larger 4.7-inch screen; at the same time, the 5.5-inch
Apple iPhone 6 Plus
phablet was launched.
A report today states that Apple is looking at five different prototypes of the iPhone 7, while testing various features on them. Some of the technology being looked at by Apple includes a USB-Type C port that supports headsets, wireless charging capabilities, a fingerprint scanner embedded in the phone's display, multi-Force Touch, and a dual camera set-up presumably for the rear of the device. The report adds that Apple is also experimenting with an AMOLED screen,
even though such a change might not occur until 2019
at the earliest.
Which of these new features, if any of them, will we see in the Apple iPhone 7? Considering that it has been less than three months since the
Apple iPhone 6s
and
Apple iPhone 6s Plus
were launched, there is a long way to go before we find out for sure. So far, there has been a rumor stating that the
iPhone 7 will be waterproof
, while another report said that Apple will remove the 3.5mm earphone jack in order to make the iPhone 7 thinner. KGI Securities analyst Ming-Chi Kuo, who has one of the best records when it comes to leaking information about Apple, says that the Apple iPhone 7 will come with a 4.7-inch screen and 2GB of RAM. The Apple iPhone 7 Plus will offer a 5.5-inch screen and will sport 3GB of RAM. Both models will be powered by the Apple A10 chip.
Thanks for the tip!
via
GforGames