Report: Apple has yet to sign an Indie Label for Apple Music
12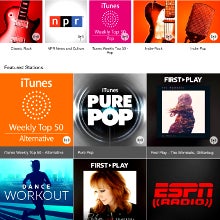 With
Apple Music set to debut June 30th
when iOS 8.4 starts getting pushed out, a new report says that the Cupertino crew has yet to sign an indie label for its streaming music service. Apple has already inked the big three, Warner, Universal and Sony Music, to contracts. While Apple is paying out an industry high 71.5% to 73% of its revenue to labels, performers and rights holders, there is one major thing holding back the independent labels from getting involved and that is Apple's three month free trial.
Because Apple is offering users a three month free trial, the tech titan books no revenue during that period. If Apple receives no revenue, it has nothing to split with the labels. While Universal, Warner and Sony might be able to afford giving away their product for free for 12 weeks, the independent labels are usually smaller companies that can't afford to give songs away even if it means a decent pay day in the future.
With indie labels upset that Apple is essentially asking them to help cover its cost of running a three month free trial, Apple could go into the launch of Apple Music hamstrung in its ability to play tunes from developing artists. In addition, some well known singers such as Adele are still signed to an indie label. Andy Heath, the chairman of lobby group UK Music, says that such a deal could put smaller players out of business.
"If you are running a small label on tight margins you literally can't afford to do this free trial business. Their plan is clearly to move people over from downloads, which is fine, but it will mean us losing those revenues for three months. That kind of deal would literally put people out of business."-Andy Heath, chairman, lobby group UK Music
With less than two weeks until Apple Music goes live, it might behoove Apple to dip into its cash holdings and pay these smaller labels for playing their Artists' tunes. In the event that nothing is worked out in such a small window of opportunity, those looking for the edgy sounds found on independent labels will probably have to subscribe elsewhere.
source:
Fortune
via
SlashGear