Report: Apple has over 1 million apps in the U.S. app store
30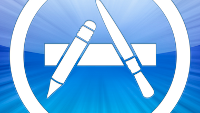 Back in October, we told you that globally, Apple had over 1 million apps in the App Store. Now, we can tell you that the U.S. App Store alone has hit the 1 million app mark. This is based on a tweet from AppsFire, an apps discovery platform that helps developers find an audience for their apps. Of the million apps available in the U.S.App Store, 473,000 are optimized for the Apple iPad.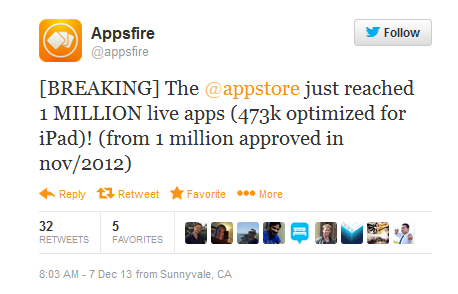 Appsfire says the U.S. App Store now contains over 1 million apps
Even though Android dominates the global smartphone market, it seems that developers continue to pick the App Store as the first destination for their apps. Even Google's own
Capture
app, which allows users to record a video and send it to YouTube, Facebook, Google+ and Twitter all with one click, was lauched for iOS nearly a year ago. Despite talk that the app would eventually come to Android, so far it hasn't.
Two years ago, it was easy to see why developers favored iOS. For every $1.00 spent on apps in the App Store,
only 24 cents was spent at the Google Play Store.
Last year, it was computed that 1 million apps had been approved for the App Store, although not all of them had been listed at that time. Now, counting the apps that are actually on the shelves of the U.S. App Store, the number is over 1 million. It is no surprise that since 2008, more than 60 billion apps have been downloaded from the App Store. And developers have received $13 billion in payouts, which is surely another reason why code jockeys seem to write first for iOS.
source:
@appsfire
via
RedmondPie