It's the "Ultimate Movie Weekend" which means rentals start at 99 cents in the Google Play Store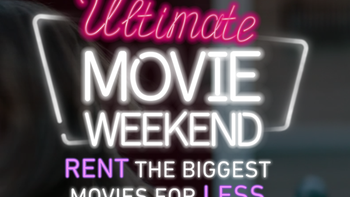 It's the "Ultimate Movie Weekend" according to the Entertainment Merchants Association (via
Variety
), and that means movie rentals are priced as low as 99 cents in the Google Play Store under the Movies & TV tab. Other rentals normally priced at $5.99 are reduced to $2.99 and those that usually costs $3.99 can be rented for $1.99. Rentals are downloaded immediately, and you have 30 days to watch the movies you decide to rent. However, once you hit the Play button, you have 48 hours to finish viewing the rented content.
Among the 99 cent titles, you'll find 2017's
Wonder Woman
,
Forrest Gump
,
21 Jump Street
,
22 Jump Street
,
Batman v. Superman
and
School of Rock
. Some of the more recent and popular titles that are $2.99 include the
Lego Movie: The Second Part
,
A Star is Born
and
Escape Room
. If you're looking for a tense crime drama that offers more big-name stars than a planetarium, check out 2006's
The Departed
for just 99 cents. With a cast that includes Jack Nicholson, Leonardo DiCaprio, Alec Baldwin, Anthony Anderson, Martin Sheen, and Matt Damon, it is Mark Wahlberg who arguably is the standout performer in the film.
The "Ultimate Movie Weekend" ends on Monday, June 3rd and includes films produced by Lionsgate Entertainment, Paramount Pictures, Sony Pictures, Universal Pictures, and Warner Bros. Disney and its newly purchased 20th Century Fox unit are not participating in the event. The Ultimate Movie Weekend" is also resulting in discount movie rentals on other apps and platforms including Vudu, Prime Video, the soon to be departed iTunes and DirecTV.
So if you own an Android device, head over to the Play Store and tap on the Movies & TV tab. You might find a movie that will take your mind off everything that is happening in the world, even if it's only a two-hour reprieve.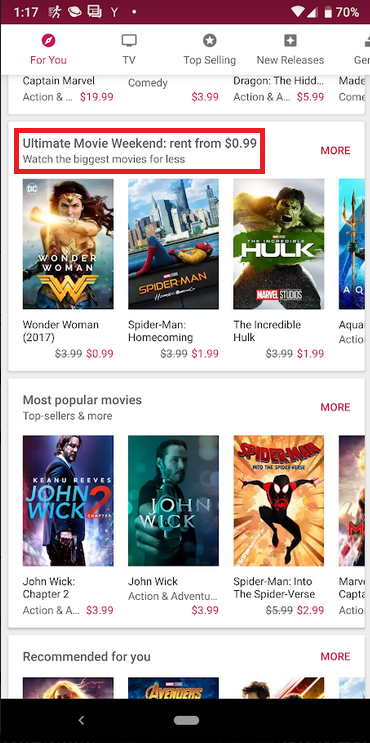 Movie rentals start at 99 cents in the Google Play Store for the Ultimate Movie Weekend