Remaining Galaxy Note 7 owners will soon lose all cellular coverage in Australia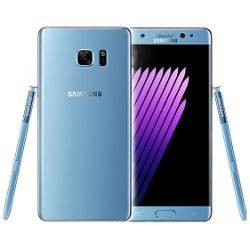 Though most
Samsung Note 7
owners have returned their model for a refund or exchange by now, some are defiantly holding onto the handset. It's understandable, since the cancelled phablet
is pretty great
. Strong potential for spontaneous combustion is quite the caveat, though, and those continuing to use the Note 7 are putting themselves -- and others around them -- at risk. Whilst these units are still in the wild, Samsung also remains susceptible to
damaging reports
and as such, the firm is upping the ante in attempts to prise the Note 7 away from Australian consumers.
Following a similar effort in New Zealand back in November
, Sammy is now teaming up with carriers in neighboring Australia to extract the remaining few Note 7 devices. After the recall and cancellation, Samsung has sought to accelerate the recall in a number of ways, incluing global, forcible software updates that greatly
reduce the device's battery life
. Now, it's been revealed that a "network discontinuation" process will commence Down Under from December 15th, with carriers set to essentially cut off those remaining Note 7 owners.
This move, which will stop users from making calls, sending texts or using mobile data, should finally persuade loyalists to part with the Note 7 after an admirable fight. To soften the blow, Samsung is offering to exchange the device for a
Galaxy S7
or S7
edge
along with a refund on the difference in price, and AU$250 worth of credit for the customer to spend at their place of purchase.