Samsung Galaxy Note 7 to be cut off from all New Zealand carriers starting November 18th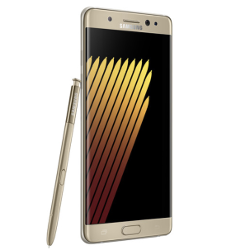 Samsung's New Zealand division broadcast some terrible news today to those who were hoping to continue using their
Samsung Galaxy Note 7
, despite the risk that the phone might explode. As many of you know, starting in September Samsung recalled both the original Galaxy Note 7 units, and the replacement models. Not all owners of the device followed Samsung's orders. In Europe, for example,
only 57% of Galaxy Note 7 owners exchanged their phablet
for the replacement phone. Forgetting for a moment that the replacement unit would also end up getting recalled, all we can say is that this speaks volumes about how much consumers loved this device.
For Galaxy Note 7 users, many could not think of any other phone that they wanted to own. But Samsung had to consider the possibility that people could get hurt. So in order to force the issue, Samsung released a press release today stating that all Galaxy Note 7 units in New Zealand will be unable to connect to mobile carriers starting on November 18th. Beginning on that date, the Galaxy Note 7 won't make or take calls, send and receive SMS messages, or handle data.
Samsung already tried late last month to get Galaxy Note 7 owners to turn in the device by issuing a software update that prevented the battery from charging to more than 60% of capacity. But this didn't seem to do the trick, forcing Samsung to raise the bar. Between November 4th and the 18th, Samsung New Zealand will remind Galaxy Note 7 users of the impending network discontinuation.
Samsung is "strongly urging" Galaxy Note 7 owners in New Zealand (and anywhere, really) to return the device to the place it was purchased from for an exchange or refund. If a consumer exchanges his Galaxy Note 7 for a cheaper device, Samsung will pay him/her the difference.
"As part of our commitment to ongoing safety, Samsung would like to make our customers aware of plans to discontinue network service for Note7 devices. From the 18 November, customers still using the Note7 will no longer be able to connect to any New Zealand mobile network services to make calls, use data or send SMS messages.

We strongly urge any customers still using their Note7 to return their device to the place of purchase for a refund or replacement. Between November 4th - 18th, we will contact our customers on at least two separate occasions with information about this network discontinuation event to ensure they have received adequate notice.

We would like to thank our Note7 customers for their patience and understanding."-Samsung
source:
Samsung