Real Racing 3 receives new cars and more customization options thanks to a massive update
17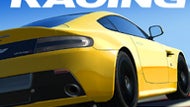 Excellent news for the mobile gamers with gasoline in their veins! EA's Real Racing 3, one of the most popular and good-looking mobile racing games out there, just got updated with new content and received improved customization options. The height of the car, the color of the rims, and custom vinyls are just a few among the many customizable parts of your rides.
The refreshed version of the visually-spectacular racer now allows you to burn rubber in three British sports cars - the Aston Martin DB9, Vanquish, and V12 Vantage S.
In addition, Real Racing 3 also comes with another new feature, called Photo Mode, which allows you to snap a photo of your rubber-burner and share it with your friends. The picture of your ride can be edited, too.
Another new feature are the newly-added Gold Achievements and All Star Vendetta Series. The former will fill your bank account with additional gold when you perform various stunts, whereas the latter allows you to "pick your favourite manufacturer and clinch victory".
You can check out our review of Real Racing 3
here
.
Download: Real Racing 3 (
iOS
|
Android
)