Randall Stephenson: Slow Android updates are Google's fault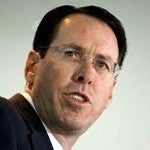 Ask the average Android owner waiting for what seems like eons for the latest OS update, who is to blame for the long wait and most will throw everyone into the rant that follows.
Manufacturers, carriers and Google
get the finger pointed at them for what seems to be a very slow current update cycle for the green robot. This is an important subject because Android's main competitor, iOS, has had timely updates
including the most recent iOS 5.1.1
which was released this week. Of course, Apple has the advantage as it has three current smartphone models to concern itself with compared with the larger number of Android handsets that all need to be considered for a large, wide spread update.
While Google's role in all of this appeared to be
to provide an open-source software
, AT&T CEO Randall Stephenson seemingly put the blame for slow Android updates on the Mountain View based tech firm at the Milken Institute 2012 Global Conference. The executive responded to a question about slow Android updates by saying, "
Google determines what platform gets the newest releases and when. A lot of times, that's a negotiated arrangement and that's something we work at hard. We know that's important to our customers. That's kind of an ambiguous answer because I can't give you a direct answer in this setting
."
Google's response was to say, "Watcha talkin' about Randall?" Well, they actually said more than that. Google said that they do not require negotiations before a handset is released. The latest release of Android is available at source.android.com after the first device based on the update is launched. Google does this to make sure that its latest Android build runs without errors on hardware that has been approved by manufacturers and regulators like the FCC.
"Mr. Stephenson's carefully worded quote caught our attention and frankly we don't understand what he is referring to. Google does not have any agreements in place that require a negotiation before a handset launches. Google has always made the latest release of Android available as open source at source.android.com as soon as the first device based on it has launched. This way, we know the software runs error-free on hardware that has been accepted and approved by manufacturers, operators and regulatory agencies such as the FCC. We then release it to the world."-Google's response to Randall Stephenson's comment
We would imagine that things will blow over because at the end of the day, Google does need AT&T and AT&T does need Google. Guys, kiss and make up so that we can move on.
source:
9to5Google
via
Phandroid