RadioShack's No Contract Wireless rates sniffed out - unlimited everything and 2.5GB data for $60
5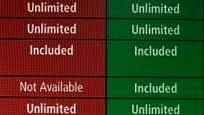 After we were tipped about
the Shack's plans to launch a no contract wireless service
provided by Cricket, called simply No Contract Wireless in leaked docs, came
the launch date rumor of September 5
, but the biggest piece missing were the rates.
Now a leaked document fills in the gaps, and RadioShack is seemingly aiming for the kill here - $60 a month will net you unlimited talk and text, along with other goodies, plus 2.5GB of data.
Given NPD's recent research that most people use about 2GB of data a month, the Shack must have made its calculations already. All we are waiting for now, is the official announcement.