Race to a trillion dollar valuation update: Apple closing in, Amazon still in the race
21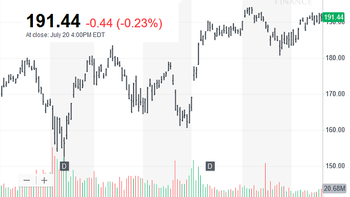 Back in March, we told you about
the race to become the first public company in history to be valued at one trillion dollars
. Four months ago, Apple's market cap (shares outstanding multiplied by stock price) was $893 billion, or 12% away from the magic number. And while Amazon at the time was 33% away, some analysts predicted that Amazon would hit the mark first based on its steeper trendline and the fact that Apple and Amazon had risen 24% and 87% respectively, year-over-year.
Since that story three and a half months ago, Apple has risen approximately 8.8% to close Friday at $191 and change. With a current market cap of $933.7 billion, Apple is 7.1% away. At $205.04, Apple will be worth one trillion bucks. During the same time period, Amazon has risen 17.1%, nearly twice Apple's rise. With its market cap of $894.6 billion, Amazon is 11.8% away from the trillion dollar mark.
When we looked at this race during the first quarter, analysts were calling for Amazon to be the first trillion dollar public company by August with Apple following a week later. Amazon still is outperforming Apple, but the latter is much closer to the mark; Amazon might run out of time.
A dark horse in the race is Google parent Alphabet, which has a valuation of $835.6 billion and is 20% away from a trillion dollar market cap. And on the fringe is Microsoft, which just hit an all time high on Friday. However, the software giant is 22% away from the target.
Apple is expected to report its fiscal third quarter earnings on July 31st. Amazon will release its next earnings report on July 26th. A good response by investors to either firm's report could go a long way toward having the first trillion dollar public company crowned.
Recommended Stories