Amazon could beat out Apple to become the first trillion dollar company
17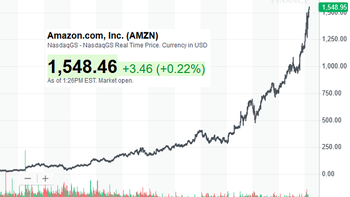 In the past,
we've discussed
the possibility of Apple possibly becoming the first company to reach a market capitalization of $1 trillion dollars
. That figure is computed by taking the current stock price of a public company and multiplying by the number of shares outstanding. The last time we addressed this issue, last May, Apple's shares were at $153 and the company became the first to be valued at $800 billion. With its shares now at $176, Reuters computes Apple's current market cap at $893 billion. Apple is just another 12% rally away (a stock price of approximately $197.20 should do the trick).
In the past, when it came to market cap, Apple was challenged by ExxonMobil, or Microsoft. Last month, Amazon passed Microsoft to become the second largest publicly traded firm in the world. Now it seems that Amazon and its $752 billion market cap could beat out Apple to be the first company to hit a trillion dollar valuation. To hit the trillion mark, Amazon's shares would have to rally by 33% to $2,063. Surely it would seem to be a cakewalk for the iPhone manufacturer. But while Apple's stock has risen 24% year-over-year, Amazon's shares have soared 83% over the same time period.
Amazon is signing up businesses left and right for its cloud service, the Amazon Echo is the most popular smart speaker in the world, and Alexa has become one of the top two virtual assistants. Meanwhile, sales of the premium priced
Apple iPhone X
appear to be lagging behind Apple's own estimates,
forcing brokerage firms to cut production estimates of the device
for the calendar first half of 2018.
If both firms were to continue the trend that they both have been on over the last year, Amazon would hit the trillion dollar valuation mark in August with Apple joining the club a week later.
source:
Reuters