RIM to allow Android apps on BlackBerry devices?
16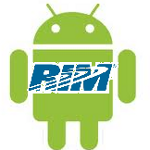 According to more than one trusted source over at BGR, Canadian manufacturer RIM is about to make a move that could allow certain BlackBerry devices to run Android apps. According to the report, RIM is looking at having a Java based Virtual Machine added to its QNX flavored BlackBerry PlayBook tablet and smartphones. The reason wouldn't be for development of apps, but to support custom apps that corporations are using but do not want to rewrite, among other things.
The main part of this story is that RIM is considering using the Dalvik VM which is the same virtual machine used by-guess who-the Android OS. This would mean that if RIM goes with this scenario, mostly any Android app written for Google's open source OS would be able to be played on a QNX flavored BlackBerry tablet or phone.
According to BGR, there are two forks in the road and RIM can take one or the other. The turn to the left involves RIM using the Dalvik VM (which is also open source) without Google's blessing. The other road leads to talks between RIM and Google with both sides shaking hands on a deal that would make all of this "official" and could lead to the latter's official support of installing Android apps on QNX devices, including the Android Market.
It will be interesting to see how this all plays out. The BlackBerry PlayBook has received something of a nice buzz after the CES and adding the ability to load it up with apps developed for Android could only help. And it all could lead to a decision to speed up the development and production of QNX flavored BlackBerry handsets which certainly could shake up the cellphone market.
source:
BGR