RIM shakeup coming, co-CEOs will likely relinquish co-directorships
12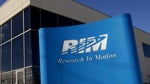 Research in Motion's unique management structure will likely become a bit more mundane soon, according to a report by the Financial Post. Co-CEOs Mike Lazardis and Jim Balsillie will most likely be forced to relinquish their positions as co-chairs of the board of directors next month, when an internal study on the company's management structure is complete..
As the company's stock and
market share
has dropped, pressure has steadily grown on RIM to
bring greater independent control
to their board to provide a check on Lazardis and Balsillie. Balsillie and Lazardis, two of the three largest RIM stock owners, have long resisted this move, but this summer an independent group of shareholders lead by Northwest & Ethical Investments LP threatened to bring RIM's management hierarchy up for a vote; to avoid a public showdown the board agreed to a 6 month study of the problem.
It was initially thought that the maneuver would lead to little substantive change, but RIM's BlackBerry 7 handsets have not reversed the company's market share drops, and their next generation BB10 handsets have been delayed until the second half of 2012. RIM has promised a big marketing push to "reinvigorate the BlackBerry name", but with lackluster products on the market and no refresh in site, it appears that the
pressure
will be enough to force a move to create broader independence on RIM's board.
source
Financial Post
via
BGR