RIM delays its annual meeting with investors until after the launch of BlackBerry 10
6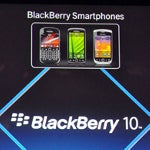 Historically, RIM has met with the Wizards of Wall Street during the BlackBerry World conference which will take place in May. This year, with the Canadian manufacturer about to make one of the
most important launches in company history
, RIM has decided to change things up. Instead of meeting with Wall Street during the BlackBerry World conference, RIM will focus the latter on its customers, developers and its partners and push back its talk with investors.
Our view is that the next four quarters show a steep decline in quarterly units and a gradual decline in overall subscribers, which at around 73 million, is the last of the growing, positive metrics for RIM. We continue to see a mass exodus away from
the BlackBerry
platform in the consumer segment, in the enterprise, and in government, and there is nothing that will stave off this decline in 2012-Wedge Partners analyst Brian Blair
Speaking with Reuters, RIM spokeswoman Tenille Kennedy said, " "We will hold a separate session targeted at the interests of the investment community later this year, once
BlackBerry
10 is launched." BlackBerry 10 is the new OS that was
inspired by the QNX software used on the BlackBerry PlayBook tablet
. While no precise date for the investor's meeting was given, RIM is expected to release at least one BlackBerry 10 powered smartphone by the end of the year.
giving away prototypes of the BlackBerry 10 smartphone
to developers at the BlackBerry Jam conference in May. These phones are being handed out so that developers can get the hang of writing for the new OS. The final consumer model of the phone is expected to be different from the prototype. Originally RIM was thought to be releasing a number of BlackBerry 10 models at one time, but that has been
reduced to one model
that at times has been called the
BlackBerry London
or the
BlackBerry Blade
.
Wall Street pencil pushers are expecting RIM to announce a poor quarterly report Thursday after Wall Street closes for the day. Expectations are that RIM shipped 11 million BlackBerry units in the period, the low end of analysts' estimates. Others see RIM announcing even weaker results. The company's stock has a 52 week high of $57.85 and is currently trading at $13.60.
source:
Reuters