Quiz time #3: Can you guess what phone this is?
40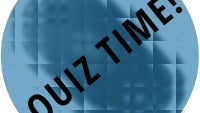 It's time for another quiz, folks! just last week we, once again, put your phone knowledge-base to the test and asked you to see if you'd be able to name the phone that we had chosen. Once again, the challenge was a easy one for most of you. The phone in question was the
Nokia N86 8MP
, the first smartphone ever to come with an eight-megapixel camera. Bravo to all those who have guessed correctly!
Here's why we decided to regularly test your knowledge about the smartphone world and some of its "godfathers". We'll be dropping you a hint or two about a certain interesting device from the past. Today's a new day, a most perfect moment for another brainstorming session.
This time, however, we'll be stepping our game up and will really try to make sweat. You'd find several spot-on clues in the gallery below, along with "censored" photos of the phone. Put your thinking caps on and try to guess the phone!
Update
: Indeed, as some of our users guessed, the phone right below is the Motorola MOTOJEWEL.