Quantify yourself with Instant: the new all-in-one phone and fitness tracking app for Android
2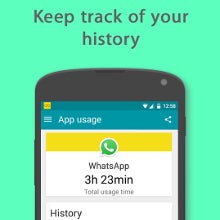 We've been obsessing about every minute detail of our daily lives ever since social networking and smartphones took off, and that trend, instead of abating, seems to make us want to compartmentalize life even more. Enter Instant 2.0, the new all-in-one tracking app. Before Instant, if you wanted to follow your daily fitness regimen, you'd install a calorie intake app, of which there are many with beautiful interfaces and handy charts out there.
Alternatively, if you wanted to track your phone and app usage, you'd install a battery monitor, call logger, or any system info application that rolls those in. Instant, however, aims to be the one-all be-all of tracking apps, so that you can follow each and every personal routine or phone usage statistic within the app itself.
Dubbed a "lifelogging" tool, Instant 2.0 monitors the daily usage of your device, apps, fitness time and travel, and presents you a clean info sheet done in the new Material Design guidelines. Give it a shot if you are interested - you can even follow the tidbits interactively, as Instant provides you with a rich widget set for the matter.
| | |
| --- | --- |
| Developer: Emberify | Download: Android |
| Category: Productivity | Price: Free |