Qualcomm's first custom 64-bit core officially unveiled: Qualcomm Kryo promises 2x boost in performance
52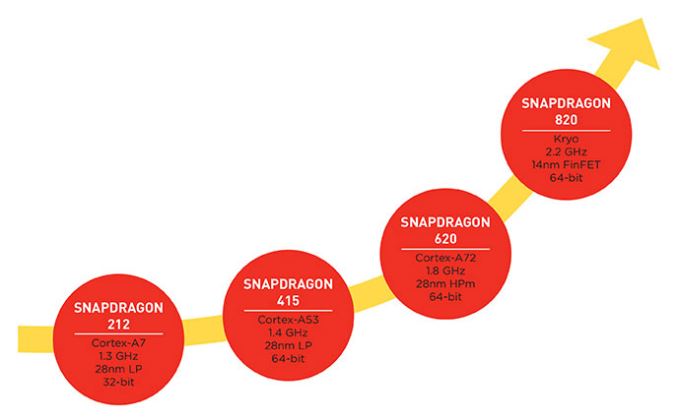 Now, more than ever, Qualcomm is under the gun. While the average Joe on the street might not think twice about it, smartphone fanatics can't help seeing the number 810 and automatically start sniffing for smoke. While the number of top-shelf models that employ the Snapdragon 810 SoC has recently increased sharply (including
the three new Sony Xperia Z5 models unveiled today
), some manufacturers are apparently waiting for the Snapdragon 820 to roll off of the assembly line.
The Snapdragon 820 chipset is going to feature Qualcomm's own 64-bit Kryo CPUs. Kryo is built using a 14nm FinFET process and can handle speeds up to 2.2GHz. According to Qualcomm, the CPU will offer twice the performance and power efficiency found on the Snapdragon 810 chip.
The Snapdragon 820's main competition comes from Apple's upcoming A9 series of chips, Samsung's line of Exynos processors, Huawei's custom HiSilicon chips, and the MediaTek Helio X20 chipset. The latter is particularly interesting with its Tri-Cluster CPU build, the Helio X20 features two ARM Cortex-A72 cores for the most power intensive tasks, and two clusters of four ARM Cortex-A53 cores. One is running at 2GHz for tasks requiring "medium" power. The other cluster runs at a clock speed of 1.4GHz for lighter use. You added the cores up correctly, the Helio X20 comes with a deca-core CPU.
The Snapdragon 820 is important to Qualcomm as it tries to move past the heating problems that affected the Snapdragon 810 SoC. One important step would be
winning back Samsung's business with the Galaxy S7
. Thanks to the overheating rumors that engulfed the Snapdragon 810 SoC at the time,
Samsung decided to use its own Exynos 7420 chipset
for the Samsung Galaxy S6 in regions (like the U.S.) where it usually used a Snapdragon chip.
If Qualcomm can successfully hold back the challenges it faces from various emerging chip makers and the Snapdragon 820 is every bit the success that Qualcomm believes it will be, this year will seem like a nightmare that it has finally awoken from. And while more manufacturers might examine the idea of churning out their own processors (
Xiaomi says it will have two available
next year for mid and low-range models), Qualcomm is doing the R&D required to keep its chipsets inside low, mid and high-end smartphones in the years ahead.
source:
Qualcomm