Qualcomm lowers its profit forecast, as Apple won't pay royalties
33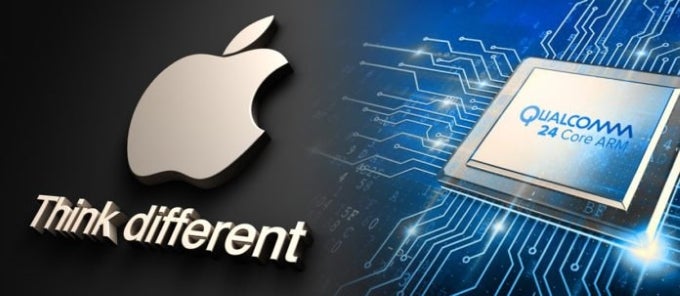 It all started back in January, when Apple
filed three law suits
against one of the biggest mobile chip makers, Qualcomm. One was for unpaid royalties, the second was for abuse of power over the market, and the third said that the chip maker didn't follow through on promises to license its standard essential patents at a reasonable price. Of course, Qualcomm didn't just sit idly, and
filed counterclaims against Apple
for a variety of reasons.
Now, new information has been released by Qualcomm, which hurts not only the chip-making company and Apple, but everyone caught in the middle too. According to a press release, Apple is withholding royalties for Q1 2017 to its contract manufacturers that have a direct relationship with Qualcomm.
This means that intermediary contractors that use Qualcomm silicon to produce components for the
iPhone 7
and
iPhone 7 Plus
are not being paid for their work, and can't pay the chip maker what they owe it. According to the statement, Apple has claimed that it will not pay up until the conflict between the two behemoths is resolved.
This forced Qualcomm to reevaluate its profit forecast for Q2 2017. The company expected a profit between $5.3 and $6.1 billion, but after Apple's owed payments were removed from the forecast, it now stands at $4.8 - $5.6 billion.
Additionally, Qualcomm's shares fell 4.3% to $50.91 in premarket trading today, while Apple's rose to $143.92.
However, both Apple and Qualcomm have plenty of other revenue streams. Such a turn of events will not harm either of the companies too badly. Who really suffers from these barred payments are the smaller companies in the middle. Not only are they not getting the money they need to pay to Qualcomm, but they're barred from receiving their own royalties as well.
"Apple is improperly interfering with Qualcomm's long-standing agreements with Qualcomm's licensees," said Don Rosenberg, executive vice president and general counsel of Qualcomm. "These license agreements remain valid and enforceable. While Apple has acknowledged that payment is owed for the use of Qualcomm's valuable intellectual property, it nevertheless continues to interfere with our contracts. Apple has now unilaterally declared the contract terms unacceptable; the same terms that have applied to iPhones and cellular-enabled iPads for a decade. Apple's continued interference with Qualcomm's agreements to which Apple is not a party is wrongful and the latest step in Apple's global attack on Qualcomm. We will continue vigorously to defend our business model, and pursue our right to protect and receive fair value for out technological contributions to the industry."
It sure seems that neither company is ready to back out just yet. But while the two titans duke it out in court, you can't help but wonder how many innocent casualties this war will take.
source:
Qualcomm
via
Reuters