Q2 BlackBerry roadmap leaked, reveals the release dates for the BB Dakota, Apollo and Torch 2
9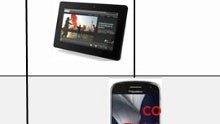 After the upcoming BlackBerry
software releases for 2011
were leaked, it's now time for its rumoured
Q2 2011 roadmap
to see the light of day.
Note that it's disputable whether this is RIM's GSM roadmap or T-Mobile's BlackBerry roadmap, but either way it reiterates the rumour that the
PlayBook
is to arrive in
April
, and sets release dates for the
BlackBerry Dakota
,
Apollo
and
Torch 2
.
The BlackBerry Dakota
- you can see its
specs and a pic
here - is rumoured to be
launched in late May
. This phone, which is said to be internally known as
R005
, and nicknamed "
Bold Touch
" is expected to offer a 2.8-inch capacitive screen with a resolution of 640 x 480 a 5MP camera and BlackBerry OS 6.1.
Next in this leaked line-up is the
BlackBerry Apollo
. According to the guys at NB44, its internal codename is
R006
, while its nickname is "
Next-gen Curve
". It's
shaping as a mid-range
offering with a 800MHz Tavor MG-1 processor, 480 x 360 display, 5MP camera and BlackBerry OS 6.1. Its
rumoured release date is "by July 2011"
.
The last phone from this roadmap is the
BlackBerry Torch 2
. Its internal name seems to be
R040
, and this phone is
expected to pack
a 1.2GHz processor, as well as 512MB of RAM and a 5MP camera. The stated release date is sometime at the
end of May or early June
. Take into account it's "under consideration", but no one seems to be sure what this means - whether it's under consideration by T-Mobile or by RIM.
These devices seem to be "
RIM Q2 Portfolio Candidates
". As 2011 is expected to be a transition year for the Canadian manufacturer - before it adopts QNX as its main OS - these are the gadgets that have to satisfy the BlackBerry loyalists in the first half of this year.
source:
NB44
via
BerryReview