Puzzle-based horror game Hellraid: The Escape comes to Android, scary as ever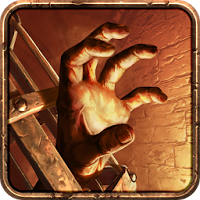 Hellraid: The Escape is a game by a small mobile game developer, called Shortbreak Studios. The title may ring familiar to some gamers out there – Hellraid is a PC and console hack 'n' slash up-and-comer that is supposed to hit the market some time in 2015 and is a fairly anticipated one at that. It is developed by Shortbreak's parent company – Techland (known for Call of Juarez and Dead Island).
Now, while the "big" game puts you in the boots of a sword-wielding, spell-casting, no-questions-asking demon slayer, the mobile offering, while based in the same universe, has a whole another experience to offer the not-so-faint of heart.
Hellraid: The Escape is in the genre of what can be described as a puzzler / horror / survivor. The game's story goes like this – the protagonist is dead (oh noes), and is now stuck in some sort of afterlife, where his immortal soul gets planted in a physical body with the sole purpose of torturing it. If the fleshy shell should die – no problem – the soul gets transferred to another one. Needless to say – our protagonist desperately wants to escape this... well, hellhole – and do whatever souls that are not in hell do, instead.
This is where the player steps in. You are supposed to help this little tortured soul navigate through magical mazes, solve riddles, somehow outsmart big bad monsters (you do NOT have a weapon), and try not to pee your pants while you are at it. This does sound like the popular horror-survivor-puzzler Amnesia, doesn't it? We think so, too, though, it is in no way a copy – more like, Hellraid: The Escape noticed the recently successful trend of putting the player in a horror game, with no weapons to fight, and built this mobile jewel off of it. For the price of $2.99, we recommend it to horror fans out there, though, be warned that it's a little bit short.
The game has been available for iOS for a while now, and today, Shortbreak proudly announced its availability in the Play Store.
Download Hellraid $2.99 (
Android
|
iOS
)
via:
Pocket Gamer