Purported Meizu MX 4 Pro and iPod Touch-like device photos leak ahead of November 19 announcement
10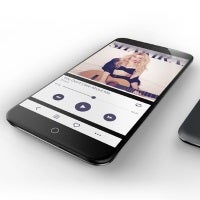 Did you get to see
Meizu's November 19 press invites
? Not only was the vynyl record concept a joy to look at, it also raised some questions as to what, exactly, is the Chinese manufacturer up to. Well, a follow up to the Meizu MX4 is a reasonably safe prediction, and the Meizu MX4 Pro's existence is a poorly kept secret. Here are two leaked photos of the smartphone ahead of the event. It's a souped-up Meizu MX4 whose specs reportedly include a large QHD display, a Samsung Exynos octa-core processor, 3GB RAM, a fingerprint-reading home button, and a 20.7MP main camera.
No questions there, but the elaborate vynyl-shaped invitations asserted to something on the musical side of things. And what could that be? The dedicated MP3 player - be it a simple plastic stick with buttons, or the reasonably capable iPod Touch - is largely irrelevant to tech consumers and vendors, so such an announcement is out of the question, right?
Not for Meizu, it seems. While Apple has completely abandoned its music players, the Chinese manufacturer might be about to rekindle their spirit with an all-new device, which looks like an Android-powered iPod Touch. Or call it a "mini-tablet", if you will. It will be interesting to see what else Meizu's creation is about, besides playing Shakira's "You Don't Care About Me" (you're right - we don't). This, and everything else Meizu will be revealed next Wednesday.