Meizu just sent out the coolest invites for its November 19 event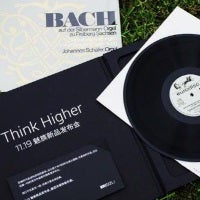 What is Meizu up to? The Chinese vendor that built this year's
really nice Meizu MX4
sent out crazy-elaborate invitations for a November 19 event. It's an actual 7-inch vinyl record, complete with packaging and a slogan that says "Think Higher". According to Meizu, each invite contains a real vinyl record with a personal message printed inside!
"If we go to this sort of detail on out invites, just imagine the product we will launch!"
- the manufacturer adds. Indeed, that's quite the imagination igniter.
The last phone in the vendor's pipeline that we know of is the Meizu MX 4 Pro, which enhances the MX 4's specs-appeal to 5.5-inch display diagonal, 2560x1536 resolution, a 13MP front cam, and a gigantic 4GB of RAM. While this behemoth of a phone is the most probable announcement, Meizu could be having other tricks up its sleeve. We'll see soon enough. Meanwhile, grandma! Can we have your old record player???