Nokia "floating lens" technology is behind the Lumia 920 PureView camera magic
23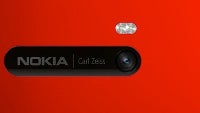 The Nokia Lumia 920 is here and it features the much anticipated PureView imaging technology, but if you hoped for lots of megapixels and oversampling, you won't quite get it. The sensor is a paltry 8.7-megapixels, but Nokia promises that PureView is much more than just the megapixels and explained that it has built in its "floating lens" technology.
Floating lens takes hardware image stabilization to new heights and that's exactly what Nokia was showing that early video of a girl riding a bicycle (you can check it out once again below). That image stabilization will be also of benefit when you take pictures, but it seems best suited for capturing smooth video.
"The shutter has to stay open longer...those few extra tenths of a second...exposes the shutter to the minute movements in your hand that causes blur in the images,"
Nokia's Jo Harlow explained what makes
"floating lens"
tick.
In reality, this translates into the sensor capturing 5 to 10 times more light than other sensors.
"The Nokia Lumia 920 captures better images and video than any competitor smartphone."
We're eager to see the first real camera samples and see what's the difference with the original Nokia 808 PureView and its ginormous 41-megapixel camera, stay tuned.
source: Nokia