Prototype of turn of the century Apple iPad spotted in court filings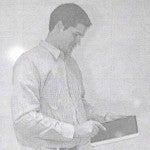 "
I'll tell you a secret. It began with the tablet. I had this idea about having a glass display, a multitouch display you could type on with your fingers. I asked our people about it. And six months later, they came back with this amazing display. And I gave it to one of our really brilliant UI guys. He got [rubber band] scrolling working and some other things, and I thought, 'my God, we can build a phone with this!' So we put the tablet aside, and we went to work on the iPhone."-Steve Jobs, 2010
If there is one good thing about the Apple-Samsung dust up, it is the possibility to see history in the making. As both sides turn over documents pertaining to the patent wars, Apple has revealed
pictures of an Apple tablet that was made in the early 2000s
. Apple's Jonathan Ive dates the prototype as being from 2002-2004 pre-dating the current version of the Apple iPad by quite a few years. The late Steve Jobs had told an audience back in 2010 that it was a tablet that led to the development of the Apple iPhone. The interesting thing about the design of the tablet is the
edge
to edge screen and the lack of a physical home button. Note the thickness of the device.
The idea to build the Apple iPhone is said to have come after Steve Jobs' unhappiness with the
Motorola ROKR
. This was a phone that Motorola produced in cooperation with Apple which was launched in September 2005. Jobs called the device the "iTunes phone" as it was considered at Cupertino to be part iPod and part phone. In a bit of a put down, he said owning the ROKR was like having an
"

iPod shuffle right on your phone

.
" Viewing the introduction of the ROKR in the video below, you can see some problems it had returning to music from a phone call at about the 3:39 mark.
letter sent by the company's attorneys to retailers
in a bid to get them to stop selling the Samsung GALAXY Tab 10.1 tablet and the Samsung GALAXY Nexus.
source:
NetworkWorld
via
TechCrunch