Processor on next Apple iPhone to be produced via Samsung's 32nm process?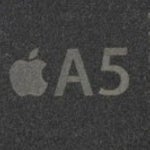 With no official word from Apple on what will be in the innards of the next iteration of the iconic iPhone (that's called alliteration, folks!), a website called
Chipworks
decided to take an x-ray of the chip powering the new Apple TV 3. What it found was the
next generation A5 processor, but with some interesting new features
.
While the media was calling the new A5 a single core application processor, the x-rays revealed that the A5 in the third generation of Apple TV is
actually made with dual-cores
. But how could this be, you ask? Even Apple's specs sheet lists Apple TV 3 as being powered by a single core application processor. The answer is that either Apple is using just one of the two cores, or it is binning one of them. This is a process used when a initial runs of a new process result in lower yields. The "bad core" is disabled allowing the manufacturer to increase the number of usable dies per wafer which lowers costs. The A5X chip in the new iPad had
both cores enabled
, of course.
Chipworks
also found that Apple had used an A5 made with a different manufacturing process. Whereas the previous generation A5, part number APL0498, was manufactured using
Samsung
45nm LP CMOS process, the new A5 was produced using Samsung's new 32 nm high-k metal gate, gate first, LP CMOS process. This is APL2498. The new Samsung manufacturing technique
shrinks the A5 by 41%
compared to its predecessor and reduces current leakage. The question is, if Apple is using this complex technique on a product like Apple TV 3, is it just
warming up for its use inside the next Apple iPhone
?
Samsung has used its own high-k metal gate manufacturing process with the dual-core Cortex-A15 Exynos 5250 processor and the unnamed quad-core Cortex-A9 Exynos processor
which is expected to power the Samsung Galaxy S III
. Samsung, of course, has produced the other "Ax" chips used in the 3 other versions, so the Korean based manufacturer should be coming right back with the production of the A6, or whatever Apple decides to call the next-gen processor.
source:
Chipworks
via
MobileSyrup