President Trump in fresh trouble over his 'unsecure' Android phone, as senators urge investigation
99+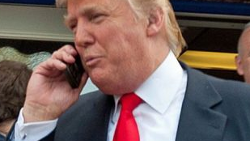 After spending the weekend in his Mar-a-Lago estate, or the "Winter White House" as he calls it, President Trump found himself in hot water over
the use of his Android phone again
, and various other potential security breaches. Apparently, a random guy who paid the $200 000 club membership fee after Trump won the election, found himself present at at a dinner with Trump and the Japanese prime minister, and witnessed the national security scramble that resulted after North Korea shot a rocket in defiance of UN resolutions.
Aides brought some documents, Donald Trump examined them on the table at the terrace where the dinner was held, and the staff even used their phones' flashlights to illuminate the bedtime reading - that's what the guy's Facebook postings revealed (subsequently deleted).
For the low-low price of $200,000 and no background check you too can live-stream a military crisis meeting. pic.twitter.com/vNd8Jo7Bq5

— Rogue Rogue One Acct (@ZeddRebel) 13 февруари 2017 г.
In short, a spy's dream scenario, and nothing like the usual presidential briefings and phone calls in a secure room at the White House. Later on, the White House press secretary Sean Spicer clarified that the documents were for arranging a press conference, and the President was briefed on North Korea in a portable secure facility, but the damage was already done.
Actually, at the pictures that the random club member posted on his Facebook page, Trump can be seen chatting from his old Android phone, which may still be the Galaxy S3 with a thick case that he has been known to use, and
apparently kept after the inauguration
. A group of senators had already penned a letter to the US Secretary of Defense, claiming that Mr Trump's "
old, unsecured Android phone
" opens him to potential hacking.
In there, senators Tom Carper and Claire McCaskill write: "
As you know, hackers often target smartphones in an attempt to obtain sensitive, personal information from the user. These reports are very troubling
." The thing is, President Trump's secure device apparently has pretty limited functionality, and it is unlikely that he would be able to tweet from it, and we all know how trying to deprive him of Twitter will end. We'll see how it all pans out, but at least a
secure Galaxy S4
would be a potential upgrade from the S3 he is said to be accustomed to.