President Obama may have swapped his BlackBerry for an encrypted Galaxy S4
22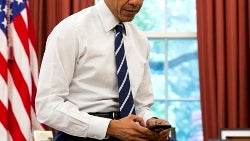 Last week, the news broke out that President Obama is finally exiting his Luddite period, and ditching his BlackBerry for undisclosed smartphone. At the time, he complained that the new phone is actually not that smart, as the staff told him: "
For security reasons -- this is a great phone, state-of-the-art -- but it doesn't take pictures, you can't text, the phone doesn't work, you can't play your music on it
." Basically, "
it's like one of those 'play phones' you'd give to a three-year-old
," said the President.
Now, this is obviously a heavily modified smartphone, but what make and model could it be? Well, it turns out that there is there's just one mobile device that has been equipped with all the requirements of the Defense Information Systems Agency (DISA) that is in charge of the White House comms services - a so-called "hardened"
Samsung Galaxy S4
. Before you scoff at the notion that the president uses a three-year old phone, consider that is is not your typical S4.
Back in 2014, a bunch of Samsung phones went through the motions to get approved for the Department of Defense's Mobility Classified Capability-Secret (DMCC-S) program, mainly because of Samsung's
KNOX
enterprise-grade security. Out of those phones, currently only the S4 is still approved to access the classified SIPRNet defense network, so that's most likely what Obama is using at the moment. Still, there seem to be plenty of extra restrictions placed on the purported S4, like the ability to install only a preset variety of Android apps from DISA's Mobile Application Store, or placing calls only via switchboards or secure VoIP functionality.
The first to test drive the "hardened" Galaxy S4 was Secretary of State John Kerry, so there is every chance that Obama might have been taken on the same path. In any case, we can't help but chuckle at the fact that the President may be using Samsung's latest and greatest for 2014.