Trump still uses his old un-secured Android phone despite objections from aides
71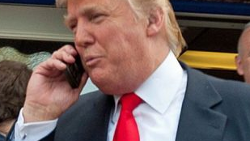 If there is one thing that we've learned about President Donald J. Trump over the course of a long presidential campaign, the election, and his first few days in office, it is that this is a man who will do whatever he wants, when he wants. So it comes as no surprise that today's
New York Times
notes that over the objections of his aides, Trump continues to use his personal Samsung Galaxy Android powered handset. He is supposed to be using the same smartphone employed by Barack Obama during his second term in office, a
Samsung Galaxy S4
.
The Galaxy S4 that Trump is supposed to be using is modified for security reasons. It does not accept incoming calls, allow the user to text or even take pictures. The handset does not work with regular Android apps but can connect to SIPRNet, the US Military's classified network. We can't blame the president for wanting to use a full-featured smartphone instead of being handicapped by the modifications made on the secure Galaxy S4. The same feelings came over Barack Obama, who said at a small fundraiser back in 2013
that he wanted a cooler smartphone for the White House
. Microsoft tweeted the president to tell him that if he wanted a cool phone, a Windows Phone 7 model could be sent to him.
By ignoring protocol and sticking to his personal Android handset, Trump can continue to fire off the tweets that have become so newsworthy. And there
still appears to be two different people with access to Trump's Twitter feed
. As we pointed out during the campaign, the tweets that obviously are sent from Trump himself come from the Twitter for Android app. Other tweets that are milder and conciliatory in tone are generally from a Twitter for iPhone app. That would suggest that a trusted aide inside Trump's camp (Kellyanne Conway?) is charged with keeping things on an even keel.
source:
NYTimes
via
Engadget