Pope Francis says to love the Bible as much as you love your smartphone
99+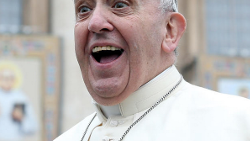 On Sunday, Pope Francis had a question to ask those who assembled to hear him at St. Peter's Square. "What would happen if we treated the Bible like we do our mobile phones? If we turned around to retrieve it when we forgot it? If we carried it with us always, even a small pocket version? If we read God's messages in the Bible like we read messages on the mobile phone?"
Keep in mind that this Pope is more familiar with the mobile world than any of his predecessors. He often poses for selfies with smartphone owning pilgrims that come to hear him talk each weekend. He also has an amazing 23 million followers on his English and Spanish Twitter accounts combined. But as recently as 2015, the Pope said that he was a disaster with technology, and did not know how to use a computer.
Last year, Pope Francis said that the internet, social media and texts were "a gift of God" if used wisely. Despite his willingness to live side-by-side with technology, he does believe that certain laws need to be laid down. He says that smartphones should not be used at the dinner table, and that children should not have computers in their rooms.
"It is not technology which determines whether or not communication is authentic, but rather the human heart and our capacity to use wisely the means at our disposal."-Pope Francis
What the Pope might not understand is that if we treated the bible like we do our handsets, we'd be dropping the book on concrete often, watching it fall into the toilet more than once, and constantly argue with others over who publishes the best Bible.
source:
Reuters