Poll: time for a showdown – Google Pixel or Apple iPhone 7?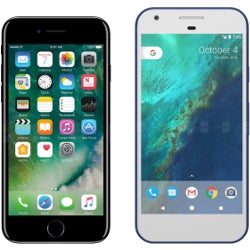 Well, folks, the gauntlets have been thrown and two of the hottest phones of the year (not a
Note 7
pun) are here and battling for your attention — the
Apple iPhone 7
and the
Google Pixel
with their phablet versions (
Plus
/
XL
, respectively).
Apple placed its bets on a tried and tested formula and brought no serious developments in terms of design. It did, however, upgrade its camera once again, added stereo speakers (sort of), went for a quad-core processor for the first time, and... well... removed the 3.5 mm jack. Hey, at least storage tiers are doubled and are now 32 GB / 128 GB / 256 GB.
Google's
Pixel
held more tricks up its sleeve, mostly because it's the new kid on the block. Surprisingly, its camera does wonders and is arguably the best one available on a smartphone right now. Its hardware is the cookie-cutter Android flagship pack – a Snapdragon 821 with 4 GB of RAM, and iPhone-esque storage tiers of 32 GB and 128 GB.
So, gun to the head, if those were the only 2 phones you could pick up — which one would you go for?