Poll: so, Pixel or Pixel XL?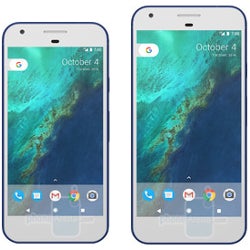 So, Google's
Pixel
smartphones
went like hotcakes
in the pre-order stage, and are expected to become physically available
in about 3 days
. Mirroring, the
Nexus 5X
and
Nexus 6P
, as well as many other high profile manufacturers, Google decided to release its Pixel flagship in two variants – a regular,
5-inch screen one
, and
a phablet-sized, 5.5-incher
.
Android users are famously split in two categories when it comes to two screen sizes — some are irked by the fact that there are very few high-tier smartphones that have small-ish and manageable displays; others are happy to have gargantuan displays on them at all times, either for ease of viewing when in the Web, or for games and video-consumption.
So, the two Pixels should somewhat cover the needs of both groups. But we wonder — which side of the fence are you on?