Poll results: do you think smartwatches should be upgraded every year?
7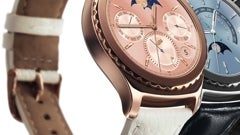 After breaking out of the geeky gadget stereotype, smartwatches are now in their own niche of luxury-accessories-meet-latest-tech. Due to that, some are accordinly priced more as fashion items than just fancy step counters. Multiple wristbands made with luxury materials have started popping up, and it seems that upgrading a smartwatch annually just doesn't seem to bring many tech benefits, considering the devices' daily applications.
Considering this, we asked you – do you believe that manufacturers should take some pressure off of upgrading their respective smartwatches every year, and thus letting the shoppers enjoy owning their rather expensive "latest gadget accessory" for longer, or should they just stick to the annual upgrade schedule? And yes, nobody is forcing users to upgrade to the newest model smartwatch, but let's be real — we are talking about the fashion accessory niche. When you spend between $600 and $10,000 on a watch and extra wristbands, you definitely don't want it to be "yesterday's news" in 12 months.
Here's how you, our readers, voted on this conundrum: