Poll results: Which LG Nexus 4 feature do you like the most?
43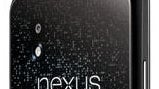 The results are in! A total of 2196 people participated in one of our latest polls, and it turns out that the tempting price tag is the most favored feature of the new LG Nexus 4 smartphone, collecting over 43% of the respondents' votes. That should come as little surprise considering the amazing hardware and software that the device incorporates, all the while being priced at only $350,
at least in the U.S
.
Speaking of hardware and software, they have both been picked by about the same number of people as best LG Nexus 4 features. The latter accumulated 21% of the votes, while the former got about 19.5% of them. But for about 6.5% of all people, it is all about the design. They just like the way the smartphone looks, and don't pay that much attention to what is written on the device's specs sheet. Last but not least, about 9.8% of the ones who voted aren't really into the LG Nexus 4.