Poll results: Samsung Galaxy S III vs HTC One X
38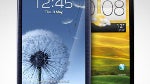 Do you want to know what's the outcome of the biggest Android clash? Last week, we posted
a poll
, asking you which smartphone do you prefer, with the options being the
Samsung Galaxy S III
and the
HTC One X
- one of the very best Android handsets around.
Well, it was a tough fight indeed, but the Galaxy S III came out victorious in the end, although with not such a big margin. The Galaxy S III managed to preserve its lead almost throughout the whole duration of the poll, but some of you may have noticed that at the very end, the One X somehow finished ahead. That sudden lead seemed quite strange so we decided to investigate. It turned out that a total of 884 votes for the One X have come from a single IP, meaning that someone out there wanted the One X to win really bad. Of course, we filtered out those votes and the end results are as follows:
the Samsung Galaxy S III wins
with 3273 votes, followed by the HTC One X with 2477.
What do you think has made most users vote in favor of the Galaxy S III?
Recommended Stories