Poll results: Motorola or Meizu, which one would you get?
16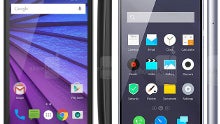 Both Motorola and Meizu revealed a smashing trio of phones recently that, coincidentally, goes for affordable prices, and offers similar capabilities. The fresh phones from those two companies are shaping up to be probably the best value-for-money that the Android universe can currently offer, so we were curious to ask which brand would you pick. Granted, the Meizu devices are of a somewhat more dubious availability outside the vast prairies of China, compared to the established Motorola brand, but Meizu is constantly entering new markets, plus the point here is to choose a brand based on the looks and specs.
Let's take the
Moto G 2015
for example - its 5" HD display and 13 MP/5 MP cameras are a perfect match for the
Meizu M2
when it comes to specs, it's just that the M2 costs less than a Benjamin, while the Moto G 2015 hovers in the $200 realm. Moving on up, we pit the
Meizu M2 Note
against the
Moto X Play
- both sport 5.5" 1080p displays, but the camera on the back of Moto's phone is 20 MP, whereas M2 Note flaunts a 13 MP shooter. Granted, Meizu's phone is again a Benjamin cheaper - about $200 for the basic version, whereas the Moto X Play will start you off at about $300.
Here we arrive to the
Moto X Style
- if we don't count the 5.7" 1440p display, against the 5.5" 1080p one of the
Meizu MX5
, the rest of the specs are pretty comparable. The Meizu phone, however, is not much cheaper in comparison. Long story short, given the differences and similarities in the portfolio of those two companies in every category, we asked you which one would you pick - the more established Motorola brand that just rocked out some great and inexpensive additions to its lineup, or the even more affordable Meizu? As expected, the storied tradition of Motorola reaped nearly two thirds of the preferences, but the up-and-coming Meizu was appreciated by enough respondents to make its current stellar efforts in mobile worth it.