Poll results: Have you used third-party app launchers on your Android device?
15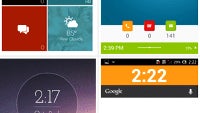 If you put enough time and effort, they say, you can tailor every Android phone to serve your unique interests and interface layout, and third-party launchers like Nova, Apex and the like, have proved it time and again. Every once in a while, a new launcher appears that promises a paradigm shift in interacting with our mobile devices, utilizing innovative gesture-based or side-sliding launch tech, and some of them are even donning amazing graphics and extra functionality. After you've perused them for a while, though, you often go back to the good ol' Nova, Apex, or whatever else you've been using that does the job for you, as they usually cover the gamut of your requirements in a more traditional way you are accustomed to better.
Not everybody is willing to take it even that far even, and most of the average smartphone users never bother trying third-party launchers, but rather stick with whatever the manufacturer overlay has provided. This is why we asked you last week if you have ever used an app launcher different than the default one that comes with your phone. Unsurprisingly, given our readers pool, almost 80% of the respondents said they have tried a different than stock launcher at least once on their Android devices. Still, 20% haven't bothered, and we'd wager to say that ratio might be reversed, or at least the difference much less if we asked the general population of phone users.