Poll results: Are Samsung's Galaxy Note II and its magic S Pen real innovation or a gimmick?
42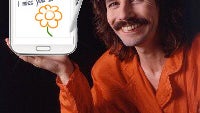 Last week, we were swamped with events, new features and products, but even with so many new devices released, the Samsung Galaxy Note II phablet, with its distinct 5.5-inch screen towers above them both physically and in terms of pure hardware.
Samsung has done a great job on keeping the device at its current dimensions but still increasing the screen, adding a more capable processor and overall polishing the experience.
The one thing that surprised us about the Samsung Galaxy Note II and its unveiling, though, was the huge focus Samsung laid on the S Pen. The Note II tablet is now slightly bigger and more comfortable to hold, but also deeper integrated into the platform, with added new features like hovering over emails or images to see more of them.
Those are all great features and much appreciated by artists and creatives, but we wondered whether they really deserve to be in the big spotlight or should Samsung focus on highlighting the hardware advancements rather than the S Pen. And that's why we asked you
how you feel about the new S Pen
- is it the kind of true innovation you want to see Samsung highlight and focus on, or do you feel this is more of a gimmick and would prefer to see more focus on things like the processor and the screen.
The results are in and the majority of you love the S Pen, and do consider it to be a great example of true innovation. Nearly 68% of voters loved the innovation in styluses Samsung brings, while only 32% thought chips, cameras and the like are more important.
Some of you suggested that the S Pen should get integrated all across Samsung's new lineup and others pointed out that the Koreans took technology that was widely in use and made it much better. Can't argue with that, can you?