Samsung's Galaxy Note II and its magic S Pen: real innovation or a gimmick?
71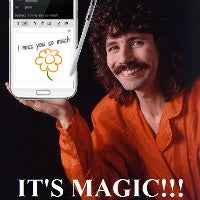 The
Samsung Galaxy Note II
is a monstrous phone in every aspect - it's got a gigantic 5.5-inch display, a 1.6GHz quad-core processor and runs the latest of Android, but instead of focusing on that,
Samsung continues to accent on the S Pen
, a stylus that slips inside the phone. Samsung has gone to great lengths developing new software for the S Pen with an even better note-taking and sketching application and overall modifications even to core Android functions to better integrate the stylus.
But are those features really requested or is it just the big screen and powerful specs that people are buying? Most importantly, is the S Pen the kind of true innovation that you, the customers, want to see in phones, including the stylus-enabled software with all those fancy hover actions? Or do you see through that and consider the S Pen nothing more than a gimmick, another feature with doubtful practical significance that would lure people into spending their money? And why? Hit us with your thoughts on that in the comments below.