Play soccer with your Android phone without kicking the device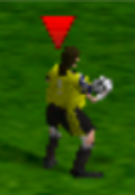 With the three headed Wade-Bosh-James monster still not ready to rear its head in Miami for over 2 months, with plenty of time before the NFL season kicks off and weeks ahead of us before Pennant Fever grips baseball fans, the after-glow from the World Cup still has an impact on U.S. sports fans. With football, as it is called outside the U.S., being the number one sport in most other countries, now is a good time for a soccer simulation game for your Android handset. EA is offering FIFA 10, which is a version of the PC/console game.
EA is the only company that has the rights to make a soccer game using names and logos of real players and teams. You can select from different modes like exhibition, manager mode or put together your own tournament. As a player, you can train, be a Pro or play a penalty kick-shootout game. A combination of the accelerometer and A and B buttons along with specific screen touches helps you move your player on your touchscreen display and there is a learning curve involved so don't expect to be playing like Ronaldo, Pele or Beckham right away. FIFA 10 will cost you $7 and is available at the Android Market or you can scan the QR code at the source link.
source:
AndroidandMe