There is a good reason why Pixel sales more than doubled during the second quarter
22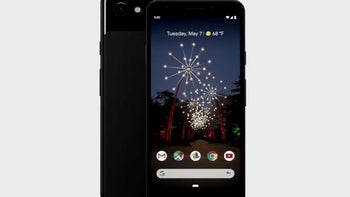 But once you realize that the mid-range
Google Pixel 3a
and
Pixel 3a XL
were released in May during the second quarter, well that certainly would give you an explanation for such a surge in unit sales. Even if the mid-sized Pixels garnered tepid demand-which wasn't the case at all-Google would have reported an increase in Pixel sales from the same quarter in 2018 when no new Pixel handsets were launched. As it turned out, the mid-range Pixels were a hit with consumers looking to pick up a great smartphone camera at a more affordable price. The
Pixel 3a
and Pixel 3a XL cost $399 and $479 respectively and several deals have appeared during the 10 weeks that the phones have been available. The devices are accounted for in Google's "Other" category and revenue in that sector rose from $4.43 billion a year ago to $6.18 billion this year, a 40% gain.
Google faces an antitrust investigation by the Department of Justice

The company is currently prepping the
Pixel 4
line, which could feature Google's Project Soli technology. This is a radar-based system that tracks the minute movements of the hands and would allow Pixel users to control the handset through the use of subtle hand gestures. Google has already released an actual photo showing part of the device's rear panel even though the new models aren't expected to be unveiled until October.
Google generated revenue of $38.8 billion during Q2, up 19.3% year-over-year. Operating profits rose 16% on an annual basis to $10.4 billion. The company spent $3.62 billion to acquire traffic during the three month period, up from the $3.47 billion it shelled out during Q2 2018. As a percentage of Google's advertising revenue, these costs actually declined to 22% from 23% during the same period a year ago, good news for the company. Paid clicks on Google sites rose 28% year-over-year, but growth slowed to 6% compared to this year's first quarter. CFO Porat noted that YouTube had strong revenue growth. "YouTube was again the second largest contributor of revenue growth, and [we're] really pleased with the ongoing momentum that we're seeing here," the executive said. A decline in Google's overall growth rate last quarter was blamed on YouTube, but it appears as though the streaming video site was able to turn things around during the three months from April through June.

"Our effort to build a more helpful Google for everyone brings countless opportunities to help users, partners, and enterprise customers every day. From improvements in core information products such as Search, Maps, and the Google Assistant, to new breakthroughs in AI and our growing Cloud and Hardware offerings, I'm incredibly excited by the momentum across Google's businesses and the innovation that is fueling our growth."-Sundar Pichai, Chief Executive Officer, Google
The second-quarter earnings report seemed to cheer investors. After the 4 pm EDT close of the U.S. markets, Alphabet shares (GOOG-NASDAQ) soared $93.67 or 8.3% to $1,225.79.