Pixel 2 and Pixel 2 XL cameras react strangely to LED light
22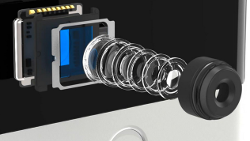 Well, we can tell you that after various issues with the
Pixel 2 XL
screen, this is not an article about a new problem involving the display on the phablet. Instead this is an article about how the rear-camera on each phone seems to have a strange reaction to LED lights. When taking a photo or video with LED lights above, waves of dark and light bands seem to sweep across the photo or video.
According to a member of the Pixel User Community forum using the handle
cybersulu
, LED and fluorescent lights flicker at the rate of the AC power supply. In the states, that rate is 60MHz. To eliminate the banding, users need to set the electronic shutter speed to a multiple of 60 (1/60s, 1/120s, 1/180s, etc.). According to
cybersulu
, any other speed will result in the banding showing up. We have a couple of videos for you to watch. One shows the banding effect on the
Pixel 2
video camera, and the other explains why the banding shows up under an LED light.
Some think that this explanation is bunk. Regardless, considering that many consumers buy the Pixel 2 or Pixel 2 XL because of the quality of pictures and videos that the handsets take, we would expect Google, HTC and LG to get to the bottom of this immediately. If we hear anything from the trio, we will pass it on to you right away.
source:
Google
via
AndroidPolice