Pictures and specs of the canceled Microsoft Surface mini appear once more
11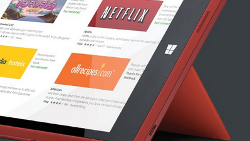 Of course you remember the
Ballad of the Surface mini
. It's a country song performed by The Voice's Blake Shelton and is full of the typical heart aching sadness that country songs are known for. It is about an event that was taking place in May 2014 to introduce the
Surface Pro 3
and the Surface mini. But on the date of the event,
the Surface mini never showed up
as
the product was pulled from the assembly line at the last moment
and was never manufactured. Apparently, the assembly line had its heart won over by another product.
Just yesterday, tipster Evan Blass revealed images and specs of the Surface mini. This isn't the first time that photos of the tablet that never came to be were posted. Back in June,
we showed you a black hued version of the mini tablet
. The images from Mr. Blass (if we can be so formal) show the Surface mini in red.The tablet would have featured a 7.5-inch display carrying a 1080 x 1440 resolution and an aspect ratio of 4:3. Had the mini lived, the Snapdragon 800 SoC would have been found under the hood with a quad-core CPU and the Adreno 330 GPU.
A 5MP camera was planned for the back, and a selfie-snapping 2.1MP camera was earmarked for the front. There were two different variations planned. One was going to have 1GB of RAM and 32GB of native storage, and the other would have come with 2GB of RAM and 64GB of native storage. A Surface Pen would have come with the tablet out of the box, and Windows RT 8.1 would have been pre-installed.
Check out the slideshow to see photos of the canceled Surface mini. As for the the Ballad of the Surface mini, it is a number that doesn't get requested too often by country stations. In fact, it doesn't exist. Then again, neither does the Surface mini.
source: @evleaks