PhoneSoap uses UV light to clean your handset while recharging it
21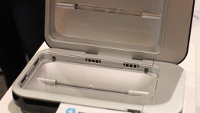 Get ready to retch. The average smartphone is 18 times dirtier than a public restroom. One in six even contains fecal matter. But that is why PhoneSoap was created. Started by two cousins, PhoneSoap is a smartphone charging case that uses UV light to sanitize your handset. Available online and at certain Staples locations, the case is priced at $59.99 and kills 99.9% of germs residing on your phone. The company offers other accessories including a portable microfiber cleaning pad for your device ($4.95) and a polish for the screen ($14.95).
Shark Tank
fans might have seen Wesley LaPorte and Daniel Barnes appear on the show on Friday, seeking $300,000 for 7.5% of the company. QVC Queen Lori Greiner ended up agreeing to give the company $300,000 in exchange for 10% of PhoneSoap. The product was originally crowdfunded via Kickstarter, and recently made an appearance at CES 2015 earlier this month.
Now, we will probably see PhoneSoap offered by the thousands on QVC as the two cousins reap the rewards of their hard work. If you are looking for an effective way to clean your phone that doesn't involve getting it wet, PhoneSoap might be the most important accessory you buy for your smartphone. And don't forget, it also charges your phone!
source:
PhoneSoap
,
MedCityNews