PhoneArena Awards 2014: Best Innovations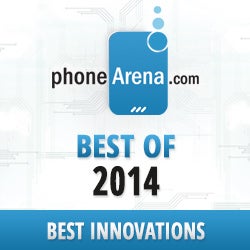 To make a smartphone isn't as difficult as it may seem. To make a smartphone that people would notice in a gigantic crowd of competing devices, however, is a truly challenging task. Some handsets are built to grab the buyer's attention with their design, features, or technical specifications. Others try to attract an audience with their low price tags. Both tactics work if they're executed right, as history has taught us.
Another way of making a smartphone stand out is through innovation – through thinking outside of the box with the goal of delivering a new, fresh user experience. And innovating is a challenge on its own, given technology's current state, which is why we think innovative ideas deserve to be honored.
So, as you can surely tell by now, this post is all about the year's top innovations – about the ideas and solutions that boldly broke the status quo. And as far as the mobile industry is concerned, we witnessed a great deal of new concepts materialize – Apple's Continuity, BlackBerry's touch-sensitive keyboard, the advent of smartwatches and Android Wear, to name a few. But it is these three innovations that we decided to crown as best.
Samsung Galaxy Note Edge and its curved display
A decade ago, phones with curved and bendable displays existed only in the realms of science fiction and conceptual design. Today, these concepts are very real indeed. 2014 brought us the Samsung Galaxy Note
Edge
and its wrap-around display – a unique feature proving that technology is still evolving at a steady pace. In addition to looking mighty cool, the curve can be used to display missed calls or texts without one having to wake up the whole screen, and while the phone is in use, the extra room can be filled with shortcuts, tools, or app notifications.
Sure, some might say that the Note Edge's unique screen design is just a gimmick, something that Samsung is merely showing off with. But while there might be some truth to this statement, we see the phone's curved display as a playground for developers and users alike. It is a new use concept, a new idea that may pave the way for further uses of the extra space once feedback on the feature has accumulated. And that's the kind of out-of-the-box thinking we wish we could see more of.
Phase detection and laser-assisted auto-focus on smartphone cameras
There's more to a great camera than a number of megapixels, and smartphone makers are well aware of that. Speed and accuracy are also of importance – quick and correct auto-focusing may make the difference between a blurry image and a masterpiece. Thankfully, serious progress was made in the field this year.
With the Galaxy S5, Samsung became the first smartphone maker to implement phase detection auto-focus in a handset's camera. Before that, the focusing technology was only found on professional cameras, not on smartphones or point-and-shoots. Later on, Apple followed suit by adding phase detection AF on its own
iPhone 6
and
iPhone 6 Plus
smartphones. That's what enables their extremely short auto-focusing times – down to as little as 0.3 of a second.
LG, on the other hand, took a slightly different approach, although it has also been inspired by professional camera tech, apparently. LG's 2014 flagship, the G3, sports a unique laser-assisted focusing system. Infrared laser beams (which are invisible to the naked eye, by the way) constantly monitor the exact distance between the phone and the subject being photographed, enabling the camera to focus in as little as 0.276 of a second. Given ideal conditions, of course. What's also worth noting is that the LG G3 is very precise with its focusing, which minimizes the risk of ending up with a blurry photo of a once-in-a-lifetime moment.
Rapid battery charging (VOOC)
A smartphone's battery is like a car's gas tank – the bigger its volume, the longer it takes to top it up. Oppo's VOOC technology, however, shakes things up quite a bit by enabling rapid charging for supported phones. The Oppo Find 7a, for example, can have its 2800mAh cell charged to 75% in about half an hour, which is pretty impressive. And a full charge takes a little over an hour. In comparison, flagships like the LG G3 and the Galaxy S5 need over 2 hours to charge completely. Oppo's clever VOOC charging tech relies on a very powerful, 4.5-amp wall charger, which provides more than two times the power than a standard smartphone charger does. What's more, the battery is protected from overheating or damage by intelligent circuitry built into the charger and the phone.