Phablet sales expected to reach 150 million in the next five years, Windows gear to get in the mix
14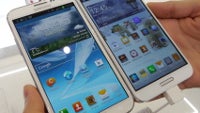 Transparency Market Research just published its "Phablets and Superphones Market - Global Industry Analysis, Size, Share, Growth and Forecast, 2012 - 2018" report, and it is a doozy for CEO Tim Cook,
who yesterday said there are too many tradeoffs with big-screen phones
for Apple to pursue this market immediately.
The research firm concludes that the total market for "superphones and phablets" will reach the astounding 825 million units by 2018, making it a $116 billion industry. "Phablet" they define as any handset with screen size 5-7", and 1 GHz or faster processor, so we guess "superphone" is anything fast enough with a screen 4.99" and below.
Phablets are expected to grow as a percentage of total, from 12% now, to 30% in 2018, but we are most interested in this nugget of info the research firm is sharing: "
The market for Windows based phablets is expected to grow at a significant rate, with an expected CAGR of 58.8% from 2012 to 2018, which can be primarily attributed to the introduction of new Windows based phablets by manufacturers such as Nokia, HTC, Sony, and ZTE among others.
"
Wait, what now? Granted, we've already heard that
Nokia is prepping a big-screen Lumia of sorts
, and HTC has its Windows Phone line, too, but Sony? In any case, five years is a long time to make any final predictions in the breakneck world of mobile.
Recommended Stories