Pebble gets $50 price cut from Best Buy for the original plastic model
2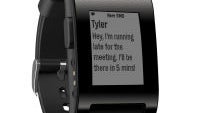 Would you like to save $50? Sure you would. By purchasing the original plastic clad Pebble smartwatch from Best Buy's website for $99.99 (which includes shipping, but not taxes), you could save enough to make 50 purchases from McDonald's dollar menu. The Pebble made it to the market last year, following a successful Kickstarter campaign, and has its
own iOS and Android app store with more than 4000 apps to choose from
. So far, there have been over 5 million apps downloaded.
Like the majority of smartwatches out there, the Pebble needs to pair with a smartphone so that you can receive notifications about phone calls and texts. An app from Misfit allows Pebble owners to monitor their sleep behavior and Swim.com has the first smartwatch app that will allow your timepiece to keep track of swimming distance, pace, times, stroke and efficiency.
Unlike its pricier competition, Pebble gets as many as seven days usage out of one charge. Between the longer battery life and competitive pricing, Pebble is actually holding up very well against watches from manufacturers like Samsung, LG and Motorola. The competition that Pebble needs to fear are those smartwatches with 3G connectivity that don't need a smartphone to pair with,
such as the Samsung Gear S
and
the unnamed LG watch that just visited the FCC
.
source: AppleInsider via
CNET