Path photo sharing app arrives for the iPhone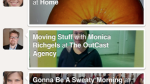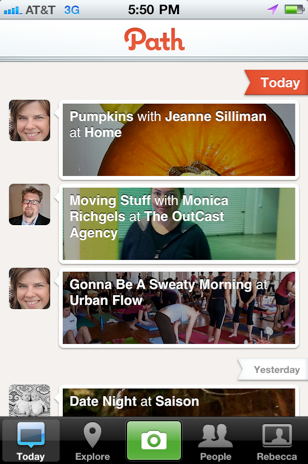 Path is a new photo sharing app that takes a whole new approach to sharing your
photos
. Facebook and Twitter are both public networks, on which anyone could theoretically look at your photos. Path, on the other hand, makes the user select a close group of friends, who will be added via their contact information in your phone.
If you've devoted any amount of your life to maintaining a
Twitter
or Facebook account, you know that sharing your images has become a tedious affair. Sometimes you worry that some creep, or your employer, is looking at certain images, so you have to detag them, or edit their availability. And other times, you just know that only a small subset of your
Facebook
'friends' will appreciate a certain photo.
Path is a tool for the inner circle of your
social network
. When you start using Path, you will select friends from your contacts to be included in your photo stream. Contrary to Facebook and Twitter, there is even a friend limit, which keeps you at 50 Path contacts or less. When you load photos, there won't be any caption or comment options. Instead, there will only be tags for 'People,' 'Places,' and 'Things'.
Path looks like a welcome change for those who want to share with their friends, but are getting a little overwhelmed by the bombardment of an ever-expanding Facebook network. It might suffer for that very reason, in that you can't repost something from a Path account, and the limited friend networks will hinder word-of-mouth.
An app like Path won't likely hurt the foothold of Facebook. It will provide a nice companion service to share with only your most intimate friends. The app is now available for free from the
iTunes Store
.
source:
Path
via
TechCrunch
Recommended Stories